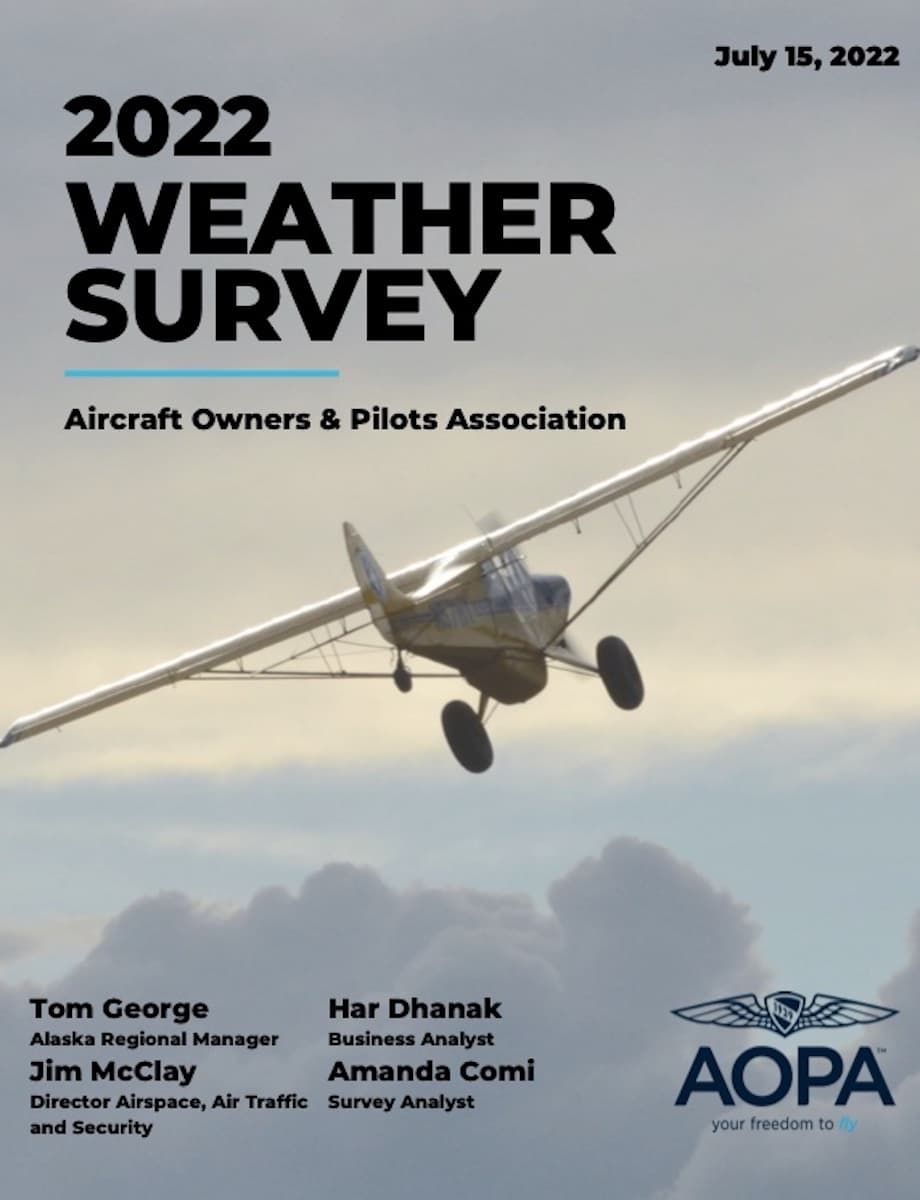 The Aircraft Owners and Pilots Association's annual weather survey shows that fewer pilots are calling Flight Service for preflight weather briefings, instead relying on apps and even general weather sites, such as Windy.
As more online weather resources emerge, pilots are more likely to conduct self-guided preflight briefings, the AOPA report notes. That led the FAA to release Advisory Circular 91-92 in 2021 to provide guidance for pilots on proper self-briefing procedures and to provide references to the many online sources of government-provided weather, NOTAMs, and airspace status.
However, AOPA's 2022 weather survey found that a whopping 68% of pilots have never heard of or are only "slightly familiar" with the Advisory Circular.
To conduct the survey, AOPA sent emails to more than 30,000 randomly selected members across the United States, Puerto Rico, and Guam. Nearly 2,500 pilots responded, according to association officials.
One trend identified in the 2022 survey was there has been little change over the six years the survey has been conducted in the resources pilots turn to for weather data in initial briefings, immediately prior to flight, and during the cruise phase of flight.
Pilots in the continental United States primarily use aviation apps and Flight Service more than any other resources, although the use of flight service has decreased 20% in the last five years.
Pilots in Alaska turn to FAA weather cameras and Flight Service specialists for their preflight weather information, according to the survey results.
One change the report does note is the increased use of non-aviation-related weather resources, such as Windy.com. Researchers hypothesize that pilots are drawn to the weather visualization and design that these platforms use.
Key Findings From the 2022 Study
Awareness of FAA's Advisory Circular 91-92, regarding preflight self-briefing procedures for pilots, continues to linger at roughly one-third of survey respondents. AOPA officials suggest the FAA and industry should continue outreach efforts to increase awareness of the AC's guidance and resources.
While the popularity of Flight Service as a pre-flight resource continues to wane, many pilots continue to value it as a consultative resource, while a significant number of pilots said they would use the service if it offered newer, digital communication technologies, such as texting and screen-sharing. Flight Service should explore the use of digital technology and research ways to leverage their unique services.
The submission rate for unsolicited PIREPs has largely remained unchanged from previous years. However, there appears to be a direct correlation between increased submission rates and PIREP instruction during primary pilot training. FAA and the industry should continue to pursue additional methods of submitting PIREPs, but should also emphasize instruction to new pilots on PIREP submission.
The FAA Weather Camera Program is widely used by pilots in Alaska, with approximately three-quarters of the pilots using it as an initial weather briefing source. Pilots cited the ability to see current weather conditions in multiple directions, as well as trends from time lapse images, as key features. Respondents called for additional camera locations inside and outside of Alaska and also called for fewer camera outages. FAA should continue to expand the program and should fund research to make it a 24-hour source of information, rather than daylight-only.
Roughly two-thirds of respondents use the dial-in option to access ASOS/AWOS, often due to a lack of internet connectivity or for convenience while driving to the airport. FAA should maintain the dial-in option for ASOS/AWOS.
New experimental weather products, such as the Cloud Vertical Cross-Section and Graphical Forecasts for Aviation, show promise for providing weather data in improved visual formats. More outreach and evaluation of these products is needed to provide feedback regarding further refinements as these products continue to develop.
"The results of this survey help us understand how pilots obtain their weather data and give us feedback on ways we can improve in the future," said Jim McClay, AOPA's director of airspace, air traffic, and security. "This is information we can use when working with the FAA and other organizations to advocate for more data acquisition and better delivery to the general aviation community."
You can read the full 45-page survey report at AOPA.org.