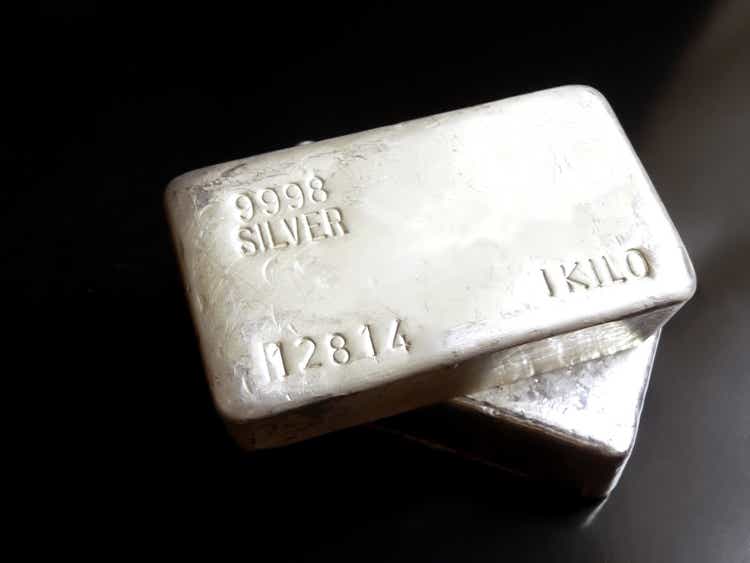 Endeavour Silver (NYSE:EXK) is a silver mining company with two producing assets in Mexico. The company's modus operandi has traditionally involved the acquisition and subsequent turn-around of mature and seemingly worn-out silver mines. The two operating mines, Guanacevi and Bolanitos, are success stories in this regard, but there are also examples where Endeavour Silver's business model has yielded less-than-ideal results (think El Cubo mine for example).
A change in the executive team early last year also brought about a change in the business model. The company is now advancing its growing pipeline of development projects, with the apparent goal of building its next future silver mines in-house rather than acquiring them. The Terronera project is one example of this new approach, a project the company has advanced all the way from early exploration to the feasibility stage over the past twelve years with a final construction decision expected shortly. And doubling down on this new strategy, the company is in the process of closing the acquisition of the Pitarrilla project from SSR Mining (SSRM), another advanced development project presumably taking the number two spot in the company's project development pipeline, ahead of another in-house development story, the Parral project.
With the recent divestment of the El Cubo mine, the pending construction decision on Terronera, and the acquisition of the Pitarrilla project the company appears committed to this change in business model and will need to execute this new strategy in the coming years in order to maintain credibility with investors. The company deserves credit for embarking on this strategic shift, but the timing has left Endeavour Silver in a vulnerable position.
Risks Rising
There is no shortage of examples of mining companies experiencing delays and cost over-runs during mine construction at the best of times. And unfortunately, the task of delivering capital mine development projects has just become more difficult, as times are far from "best" at present. Price volatility has increased markedly, and the supply of labor, building materials, and equipment have all become very unreliable, indeed. The mix of execution risk factors to be managed during mine construction has certainly increased significantly in recent times.
We are not talking about far-fetched theoretical risk factors here. In fact, the manifestation of increased levels of execution risks can be watched unfolding in real-time at numerous mine construction sites. To list just two textbook examples to underscore the point:
IAMGOLD's (IAG) 70% share of up-front capex for the construction of the Cote mine was estimated to $900M when the construction decision was taken back in mid-2020. Fast forward to the end of Q1 this year: the project is 49% completed; however, the remaining capex to be funded by IAMGOLD has only marginally decreased to $875M (mid-point of the provided range in both cases).
Or consider Argonaut Gold (OTCPK:ARNGF) and its tribulations at the Magino gold project as another example. When the construction decision was announced in October 2020 the up-front capex necessary to build this mine was estimated to $370M. Fast forward again to the end of Q1, the mine is half-built and the capex estimate has ballooned to $715M, leaving Argonaut to raise capital at cut-throat conditions.
Arguably, these two projects would have experienced bumps in the road regardless of the general market environment. However, it's also quite obvious that at a bare minimum general cost inflation, supply chain issues, and ongoing COVID-related challenges have exacerbated the fall-out (if they haven't caused the challenges in the first place, as others might argue). This is not to say, that miners can't deliver capital programs on time and within budget despite the challenging market conditions (Alamos Gold's (AGI) recent completion of the La Yaqui Grande mine at the Mulatos mine complex in Mexico is a good example). However, these feats are fewer and further between than they used to, and typically reserved for experienced and accomplished mine builders; and Endeavour Silver does not fall into this category.
Endeavour Silver might still pull off the Terronera construction within budget, but the risk of not achieving project delivery within budget is increasing. Financial institutions certainly understand the current environment of elevated execution risk and they price this risk accordingly when funding mine construction projects. The feasibility study for the Terronera project outlined a solid project when it was released in September 2021. The study showed an NPV(5%) of $174.1M and an IRR of 21.3% for a project costing $175M. However, with rising construction costs the stated NPV is bound to come under pressure; and with the increasing cost of capital, one should probably apply a discount rate greater than 5%. And taking into account these considerations the project suddenly starts looking a lot less solid under present conditions. Endeavour Silver is currently putting together a funding package for Terronera and the terms offered by financial institutions will most likely reflect the increasing risks discussed above.
All this to say that general market conditions have taken a turn against Endeavour Silver's intended shift in business plan over the past year or two – risks and costs are increasing, and so is the cost of capital.
Operations
The construction decision for Terronera is still pending, and Endeavour Silver might still decide to postpone mine construction until market conditions have calmed down again. However, if that idea took hold, then investors would most likely re-focus on the performance of the company's existing portfolio of producing mines. And that's not exactly the prettiest of looks. The two operating assets haven't generated free cash flow in 2021, even if one discounts the growth capital and only considers sustaining capital.

Some green shoots are showing in Q1 with regards to the free cash flow generation, but even if we are optimistic and extrapolate Q1 results out for the rest of the year then Endeavour Silver is still trading at 17.5xFCF. This valuation is justified as long as the current organic growth story underpins it, but it would most likely get cut significantly if this growth story was postponed.
Plus, there is another issue that will weigh on the FCF multiple should the market decide to value Endeavour Silver this way. Capital investments at the two operating mines have been kept to a minimum in recent years, and reserves and resources have dwindled to worrisome levels, particularly at the Bolanitos mine. As it stands, Bolanitos has only just over a year in reserve-based mine life left, plus a couple of years' worth in resources. This mine is in acute danger of running out of mill feed in the near future, and without a solution, this issue will weigh heavily on the company's valuation. Interestingly, there is an obvious solution, or better, there was until just a few days ago. Great Panther Mining (GPL) operates the San Ignacio mine in the immediate neighborhood of Endeavour Silver's Bolanitos mine. Several known veins run from one property into the other and are mined at both sides of the fence by the two respective companies. As we have argued many times over the years, the two mines should really be consolidated into one operation.
With Great Panther experiencing ongoing financial strive thanks to its misadventures in Brazil one could assume that there was perhaps a potential distressed seller of the San Ignazio mine — and as it turns out this assumption is not far off the mark; except it's not Endeavour Silver taking advantage of the situation, but Guanajuato Silver (OTCQX:GSVRF). This is the same junior miner that has purchased Endeavour's El Cubo mine and it is now acquiring Great Panther's Guanajuato operations, thus consolidating large portions of the Guanajuato silver district. Now, there are several question marks hanging over this particular transaction, especially in the context of the original Guanajuato mine, which is also part of this deal, but San Ignacio sure would have fitted Endeavour's portfolio very well indeed.
Seeing how Guanajuato Silver has been consolidating the Guanajuato silver district we are speculating if Endeavour Silver is talking to the junior about a possible sale of the Bolanitas mine. Such a move would make sense for both parties, and taking Endeavour Silver's point of view, it would allow the company to focus more comprehensively on the Terronera build, and at the same time lower exposure to (assumed) onerous financing terms.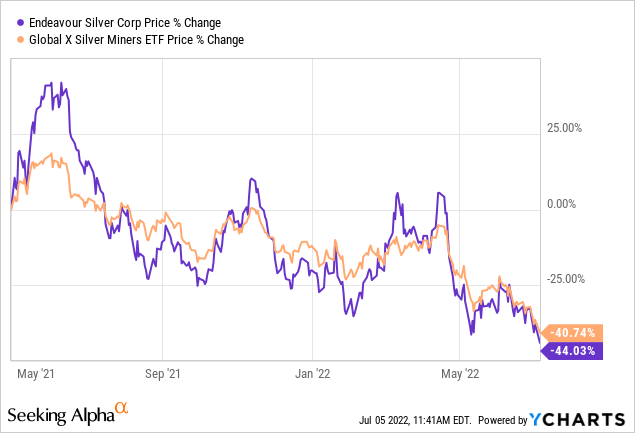 Summary & Investment Thesis
Endeavour Silver has changed its business model, and rather than acquiring another producing silver mine, the company will most likely announce a construction decision for its Terronera project in the near future. Execution risks are increasing, and this will be reflected in the financing package the company is currently putting together. In this context, we see potential in a sale of the Bolanitas mine to supplement funding, and allow for greater management focus on the Terronera mine construction.
The market apparently assigns value to Endeavour's portfolio of development projects, adding pressure on the management team to go ahead with mine construction rather than wait for more favorable conditions.
Endeavour Silver's share price has been performing in line with peers and there is little reason to believe this will change as the company's intention to build the Terronera mine has been known by the market for some time. In weighing the risks, we see increasing risks to the downside in the near-to-mid-term as construction gets underway; and we see potential upside only in the longer term as Terronera starts generating cash flow. We are therefore not buying at this moment; but we will be watching developments from the sideline with great interest. After all, buying opportunities tend to present themselves when a company is exposed to high risk levels.